Tag: Geekdom
by Species5618 on Nov.29, 2007, under Geekdom
Going back towo years i took a geek test, well in a moment of boredem i took it again,
Its bad news i am afraid
Overall, you scored as follows:

0% scored higher (more computer geeky),
0% scored the same, and
100% scored lower (less geeky).
Compared to those in the same age group as you:

0% scored higher (more computer geeky),
0% scored the same, and
100% scored lower (less geeky).
What does this mean? Your computer geekiness is:
Step aside Bill Gates, Linus Torvalds, and Steve Jobs… You are by far the SUPREME COMPUTER GOD!!!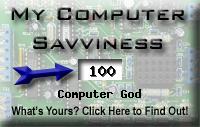 Comments Off

on Geek Test, Going down hill fast
:
Geekdom
more...
by Species5618 on Nov.13, 2007, under Computers, Geekdom, General, Technology
Very Busy day,??6 Session, some good some bad
session 1, IIS7 to IT Pro's by Issac Roybal
Tonnes of really good new features, many of which directly address problem i have experianced over the past FOUR years, I wonder when i can get it on the ground
Session 2, went to a?? great hand on, self paced LAB on configuring IIS7, this actually left me with more Questons than answers
Session 3, Lunch team slot on Windows Home Server, fantastic home Pc backup and central storage box, full support for up to 10 media connect 2.0 devices, (shame i dont have any YET !!!!!!), built in web server to allow uncle jim to acces a slice of your library, yoiu even yourself from that nasty hotel 1000 miles from home! soon to be shipping with a pucker public cert on the homeserver.com domain with full support for UPNP and dynamic DNS too.
Session 4, MORE IIS7, but how to used the new shared config feature in a WEB farm, so many NEW features to fix problems i spent weeks writing scritps for in IIS6. (met a dutch bloke yoiu managed a web farm doing 150,000,000 hits per day, make my intranet 8,000,000 per hit look pathetic)
Session 5, SQL server storage and performance, some excitable lunatic talking about 32CPU server with 512 Gig of ram and 92 hard disk spindles just for the data
??Session 6, Windows server 2008 core, seem like a nice idea, but with .net being "managed code" it cant be deployed on CORE, making the IIS CORE version suitable for ASP (yeh right), ??HTML and PHP (i think DONT QOUTE ME)
ah well time to return to the hotel for nosh and an early night, unless i can find seom of the guys i met in redmond in april 🙂
Comments Off

on Microsoft, Tech-ed IT Forum, Barcelona, Day 2
:Geekdom, Microsoft, Tech-ed
more...